10 Top Travel Accessories for your next Trip – Take only if You Might use Them
Presented by Get the PLR Scoop
Vacations, it's not too often when many of us can take a real vacation. Truly get away far from home, but it's great when it happens. Going on vacation is a nice way to get away from it all and have fun. It can also be an energy-sapping experience with troubled times. Consider these top travel accessories for your next vacation.
Packing a few extra items for your trip can help make things go a lot easier and allow you to have time to relax.
Here are some top travel accessories you can take advantage of. But be sure you don't overload yourself with unneeded items.
Now there are more restrictions on the number of baggage items and weight restrictions. Also some flights or airlines only permit one rather small carry-on.

1. Travel first aid kits
– These are perfect for those minor emergencies that occur on the drive to your destination spot or even while you're there. Buying them on the road can be costly, so bring your own and save that money for something else.

2. Travel alarm clock
– If you need to get up at certain times while on your trip, use a travel alarm clock. This is less intrusive than the annoying wake up calls from the front desk. It also lets you take a cat nap and will wake you up when needed so you still have time to enjoy your vacation, instead of falling asleep and waking up hours later.
Click the Tip image for more information.

3. Digital Camera
– This is actually a must for any trip. How many times have you been to a place where you saw something you want to take a picture of, but you didn't have a camera to do it with – or you take a picture and you get home only to find out the picture didn't turn out right? The cost is so low now; there is no excuse not to get one.
If you're thinking I can just use my cellphone, you're right, but remember the privacy part, practically nothing is private concerning your cellphone. Besides you have much more control with a camera vs. a cellphone. Digital cameras allow you to see the picture right away, so you have time to try again if needed. Don't get anything too expensive or bulky, just a small cheaper one will do. Suggestion, get a camera with a variable optical zoom, preferably greater than 3X.

4. Fanny pack
– These are nice to have to keep your money and credit cards in. It eliminates the need for purses and you don't have to worry as much about losing your wallet or purse. For women, it frees them up to move around instead of having to struggle with a purse strap always coming down.
5. Personal grooming bag
– Grooming bags help keep all of your items together in one place instead of you having to rummage through different suitcases to find one item. It also eliminates problems with getting make-up or other substances on your clothes.

6. Compressor bags for clothes
– This is an awesome accessory to have. These bags are stuffed with your clothes and then the air is sucked out of them, leaving you with a compact bag. These special compression bags or sacs allow you to pack more clothes in less space.
It enables you to have more room in your suitcases and they protect your clothes. When you need an item of clothing, all you need to do is open up the bag and get it. The amazing part is that they don't wrinkle the clothes.
7. World Travel Adapter
– This is a must have item if you have any electrical appliances. Don't forget your camera or cellphone need recharging usually sooner than you thought. It's a bad feeling when you want to make a call or take more pictures and cannot charge your dying camera or cellphone due to a low battery.
Such inconvenience usually happens at just the wrong time so to avoid such an easy fix be sure to bring at least a couple of plug adapters so whey you go away from your standard home power outlets you won't be stranded because your power supply or charger won't plug in and or the voltage or cycles are wrong.
8. A Kindle reader
– Kindle Paperwhite It has a long battery life. It offers a good reading experience, and is much lighter than carrying a few books! The Kindle is easy on your eyes. Use your Kindle instead of killing your phone battery on those long flights. It has come down in price over the years. The cheaper, non-color version like the Paperwhite, or e-Reader. Maybe even the higher priced Voyage.
For a slightly older, used reader you can also check www.craigslist.com and get a good deal if you are worried about it being stolen overseas.
9. Extra phone battery or a high-capacity power bank.
–
You should always take a spare OEM phone battery when you travel. If you can't remove your battery, make sure you carry an ultra-high capacity, flat thin power bank that can even recharge laptops storing 20,000-30,000mAh (or others at Amazon). Note that the very high capacity power banks are still cutting edge. So pay attention to customer reviews for reliability, and satisfaction. If you use Amazon, try searching for "Deal of the day, powerbank" since you can often get an extra 30%-70% off an already top-rated powerbank.
10. goTenna Portable Antenna
–
This device was inspired by the disaster rescue and recovery operations following Hurricane Sandy. goTenna was designed to keep iOS or Android or devices connected even when there is no cellular service. This pocket-sized two-way radio and antenna is made of rugged materials. It uses Bluetooth-LE to pair with a smartphone. This innovative new technology will allow people who have the device to share messages and location info instantly. The range is up to 50 miles in ideal conditions. This device is useful for the adventurous person and is especially handy for hiking and similar outdoors use.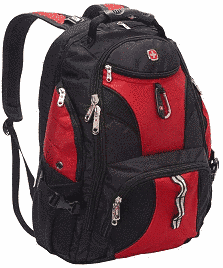 Traveling can be hard, but if you bring along a few of the right accessories they can make things go a lot smoother for you. It may mean a few more things you have to pack, but it can be well worth the space and effort in the long run. This is especially true if the common items or accessories you forgot or didn't bring aren't available wherever you may be.
Check Electrical Accessories Before Leaving
Another thing to remember is to check all electrical accessories when going on a trip. One forgotten or mistaken accessory can sometimes make a huge difference. A prime example of this was last year on an African Safari when we were on the Serengeti in Tanzania far from any population (except wild animals). A laptop accessory that was needed and not brought, caused a real problem.
I had tested a laptop I was giving to one of the guides. It was an old laptop I hadn't used for quite some time, but it was in excellent condition and had lots of memory. Unfortunately when I was testing the battery on it back home I didn't include the power cable when I packed it. So the laptop was essentially useless except for a few hours.
Actually that cable/power supply was with anther laptop I had brought for someone else, but it wasn't until a couple of days later and in a different part of the Serengeti when I discovered it. Needless to say I was really dismayed and disappointed and so was the person I gave that laptop to. Sometime later, much later the problem was resolved.
Click Here for More Travel Tips.